Today's Devotional:
May 30
Transforming Power
Years after the Budik people in Senegal heard the Gospel, the Budik believers showed little evidence of spiritual growth, and the church itself wasn't growing. But one event changed everything. "The Budik believers received the New Testament in their own language." As one believer said, "Because [of] the Word of God that was brought to us… now the Word is available to everyone…. Now when we have meetings, everyone brings their Bibles, and they're using the meetings to learn and grow more than they were able to before."1

Send me Dr. Jeremiah's Devotionals
Sign Me Up »
Please enter a valid email address
You've been successfully signed up!
How Tomorrow's Prophecies Foreshadow Today's Problems
Where Do We Go From Here?
Discover how future prophetic events are already casting their shadow across today's world and culture, leading to many of the problems we are witnessing right outside our doors.
Where Do We Go From Here? is different from any prophecy book that Dr. Jeremiah has written previously. In each of his ten chapters, Dr. Jeremiah explores a prophecy that is playing out in part or in full, linking biblical prophecy with current trends. As you read, you'll discover what exactly is going on, how each topic impacts your life, and—most importantly—what you are to do as a believer and how to navigate each troubling sign playing out in today's world.
Let Dr. Jeremiah be your guide, Bible teacher, and pastor as you thread your way through problems that Jesus predicted—precursors of the Tribulation—and learn how to do the next right thing.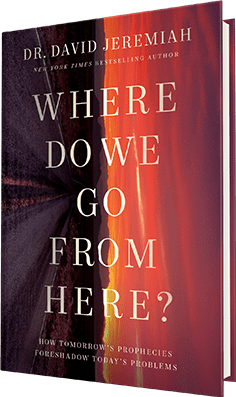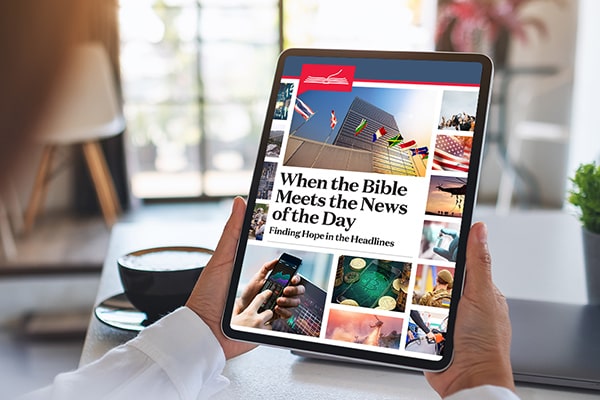 Finding Hope in God's Plan for the Future
When the Bible Meets the News of the Day
Maybe you have experienced a sense of despair while scrolling through the news lately, bombarded by headlines of tragedy, war, and global instability. It is all too easy to feel discouraged by the state of our world. But here's the good news: as Christians, we have access to a prophetic outline of the future, given to us by God himself.
While it's important to stay aware of current events, let's not allow them to shape our attitudes or perspectives. Instead, let's look to the Word of God for guidance on how to view the world around us. For over 40 years, Dr. David Jeremiah has provided us with invaluable teachings on prophecy, offering profound hope in the midst of chaos.
By understanding God's plan and purpose for our future, we become unshakable, steadfast, and fearless. This newfound confidence allows us to be ambassadors for Christ, spreading the good news of His salvation to the world. So if you're feeling disheartened by the headlines, remember that there is a greater, more hopeful story at play. Join us in discovering what it means to live in light of God's plan for our future—it's news worth sharing!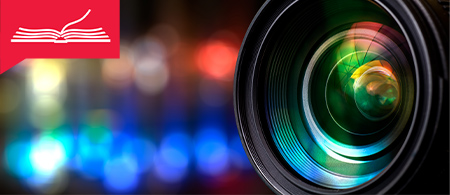 Interpreting the News of the Day
Through the Lens of Scripture
Finding Firm Footing In Uncertainty
Biblical Wisdom for Times of Financial Disruption
Wars and Rumors of Wars
Russia's Role in End Times
How Jesus' Prophecy Shapes Our Priorities
The World of the End
We may not be at the end of the world, but we are at the World of the End—a time when Bible prophecy is intersecting with our culture, technology, unhinged morality, and worldwide strife as never before. And at this point in our culture, we must boldly proclaim the Word. This is why Dr. Jeremiah felt clearly led by the Lord to develop the teaching series and book, The World of the End!
As you journey through The World of the End, you will learn how to:
Make the voice of Jesus a priority when considering the unusual events of the world around you.
See cataclysmic disasters, wars, and cultural divisiveness as signs of Jesus' soon return.
Trust that God is in control and that His plan is still working to completion.
Request your copy today and discover how to not just survive the circumstances of our world, but how to use them to make you a stronger believer and ambassador for Christ!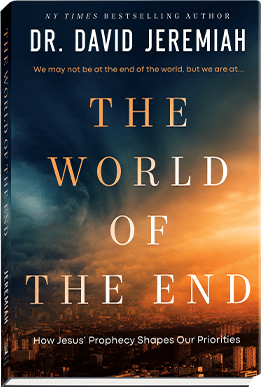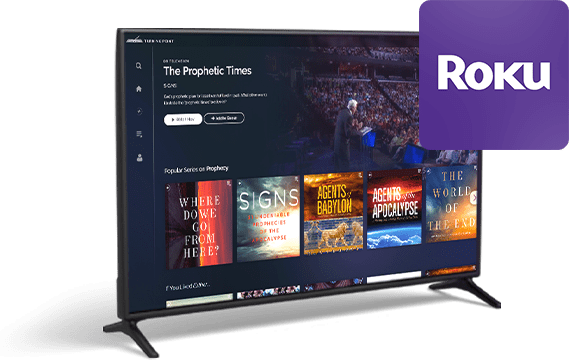 The Convenience You Need, the Content You Want
Access the Turning Point App On Your TV With Roku
Every message from Dr. Jeremiah is aired across the world on Turning Point Television, on our ministry website, and in our official mobile phone app. But did you know…Turning Point Television is also available absolutely free on Roku? No subscription of any kind required! If you have internet access and a Roku Device (or a smart TV), you can watch Dr. Jeremiah's broadcasts absolutely free.
Think of it this way…Our Roku App does the DVRing for you! No need to make sure Turning Point is recording because our Roku App makes it available instantly, for free.
Watch Turning Point from your TV on YOUR time, when YOU want to watch it!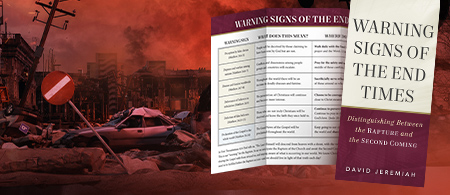 Distinguish Between the Rapture and the Second Coming
FREE Warning Signs of the End Times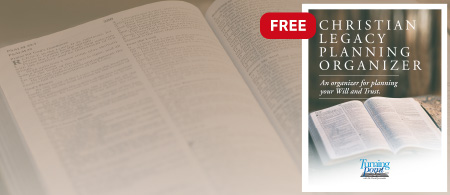 Christian Legacy Planning Organizer
Download Your Free Guide Today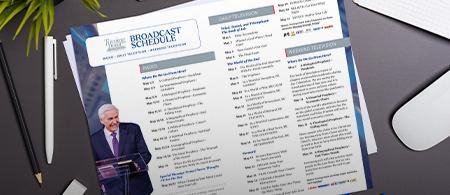 Don't Miss This Month's Teaching Series!
Free Printable Broadcast Schedule
Tap to Listen Now on Turning Point Radio
Where Do We Go From Here?
Practical Biblical Instruction for Living With Hope
Without hope, prophecy is a useless glimpse of the doom to come. With hope, prophecy is a useful picture of the glory to come!
There may never be a time in history when end times prophecy is more aligned with the culture and circumstances of the world than it is today. It's hard to ignore the prophetic signs playing out all around us. You don't have to be a biblical scholar to see how Scripture predicted many of the events surrounding us. The prophecies about tomorrow reveal much about the problems of today.
But decoding these startling prophetic events can be confusing, and frankly, intimidating to understand. Listen and be filled with hope for the future as Dr. Jeremiah explores God's purpose for all the chaos around us.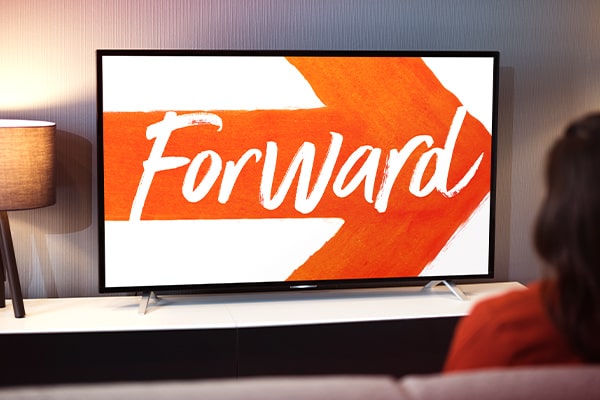 Powerful. Biblical. Inspirational. Practical.
Face the Future With Fearlessness
Are you feeling paralyzed by fear of the unknown, anxious about tomorrow, disappointed by a shattered dream, or unfulfilled spiritually? Satan would love to prevent you from realizing your God-powered potential.
If you want to rise from your rut, conquer your circumstances, face the future with fearlessness, define your dreams, and muster up motivation, then Forward is for you. This inspiring teaching series by Dr. Jeremiah is available now on:
Socialism Vs. The Bible
What Does the Bible Say About Socialism?
Few passages of Scripture stir as much political controversy as Acts 2:44-45, which is addressed to the Early Church. It says, "Now all who believed were together, and had all things in common, and sold their possessions and goods, and divided them among all, as anyone had need." Someone will likely tell you the Bible teaches socialism here and that the Early Church was communist. I will tell you this is a story of personal sharing, not public socialism.
The Early Church's generosity would have baffled Karl Marx. No one compelled the believers to help the poor and share what they had. No one redistributed possessions on their behalf. In Acts 2, we find a story of generosity and kindness, not governmental control.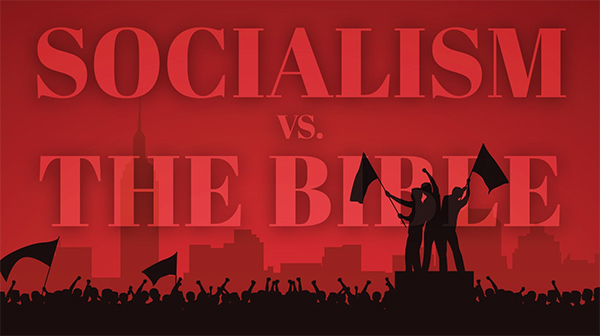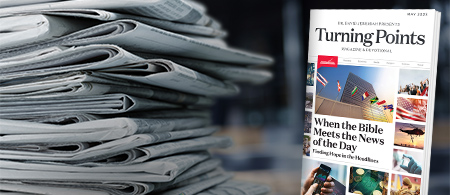 Download Your Copy Today
Free Turning Point's Magazine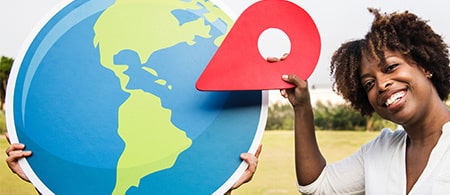 Find Turning Point Radio and Television on a Station Near You
Station Locator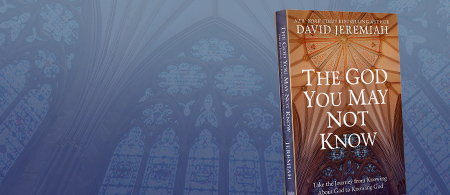 Discover a Lifetime of Personal Growth and Praise!
The God You May Not Know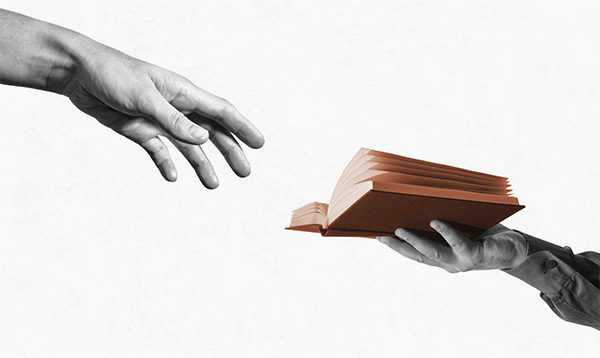 From This Point Forward by Dr. Jeremiah
God Speaks Through His Word
Like shavings of iron to a magnet, we are drawn to words. We can't help ourselves! As people of words, we find it almost impossible not to listen or read when we are in the presence of words. And therein lies our greatest challenge.
You've seen pictures of ancient and modern farmers tossing their grain harvest in the air, allowing the wind to blow away the lightweight chaff (husks) so the heavier kernels of grain can remain and be collected. That's our task when it comes to words—separating the wheat from the chaff. If we make a diet of verbal chaff, we will suffer spiritual malnutrition.
And this is no small task. Winnowing the words of life from the billions of pieces of verbal chaff swarming around us every day is challenging. But there is an easy place to begin.
New from Dr. David Jeremiah
Start Streaming TurningPoint+
Celebrate over 40 years of Bible-Strong teaching with TurningPoint+, your ultimate streaming destination. Immerse yourself in a vast library of audio and video content—a treasure trove of more than 1,000 hours of teaching—all available at your fingertips on your favorite devices.
Explore popular series like Prayer—The Great Adventure by Dr. David Jeremiah, which takes a step-by-step approach through the Lord's Prayer (Matthew 6:9-13), the same prayer taught by Jesus to His disciples. With gentle, practical guidance, Dr. Jeremiah shares his own story of learning to pray out of desperation, inspiring you to find the same urgency and intimacy in every stage of your glorious walk with God.
From riveting teachings to soul-stirring messages, TurningPoint+ offers a world of access to timeless biblical wisdom. Unlock the power of prayer and delve into other compelling series when you start streaming TurningPoint+ today!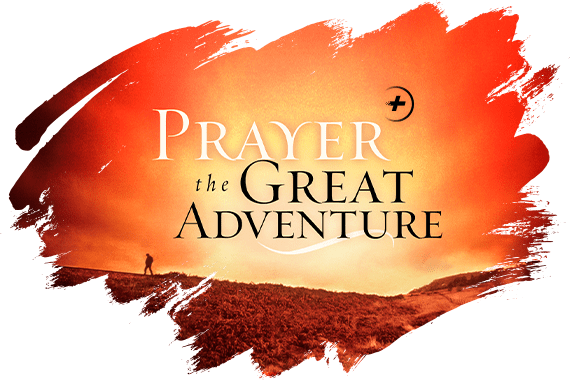 Watch Now on Turning Point Weekday Television
The Jesus You May Not Know
This study is not a recounting of Jesus' earthly life and ministry. It is not about what Jesus did. Dr. David Jeremiah takes you on an amazing journey into the very heart of Christ—not through a storybook of His life, but through an astonishing exploration of His character, His attributes, His spirit.
Did you know...
Jesus can be found in the Old Testament!
Jesus actively seeks us!
Jesus is praying for you!
Jesus said we will do greater works than He did!
Jesus desires to work through you today!
Jesus is preparing for a second resurrection!
Jesus is living in the past, present, and future!
None of us know Him as fully as we should, for Jesus is the mystery of the ages. Take the journey to knowing the full depth of Jesus with Dr. Jeremiah.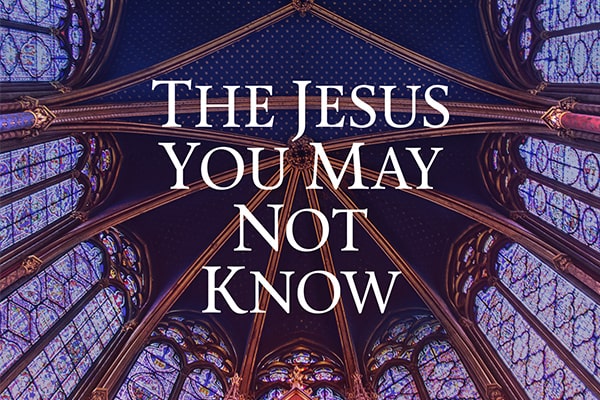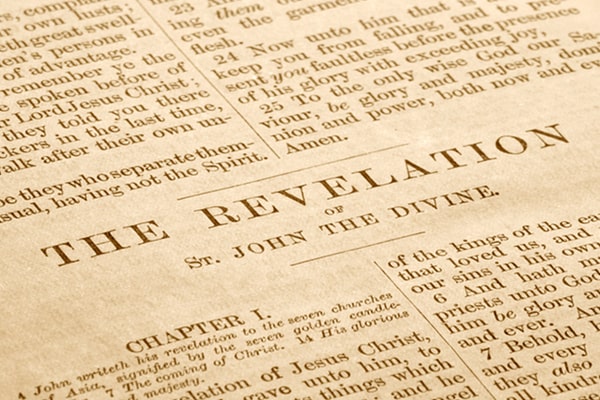 Prophecy Plays a Leading Role in the New Testament
Is Bible Prophecy Important?
Out of the 216 chapters in the New Testament, there are 318 references to the Second Coming of Christ. If we were to omit all the prophetic passages, we would have to remove one out of every thirty verses in the New Testament. We would also have to skip 23 of the 27 New Testament books that mention prophecy. For every prediction about the birth of Christ, there are eight about His Second Coming. Given prophecy's prominence in Scripture, there can be little doubt about its significance to our lives.
Jesus told several parables to illustrate the importance of being prepared for His coming. One story was about a master of the house who had been robbed. If the master had known when the thief would come, he would have watched to prevent the robbery. The lesson is simple: be prepared. Always be ready for the Rapture, which will be as unpredictable as a thief in the night.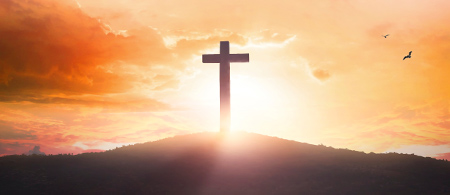 Do You Know God...Really?
Become a Christian Today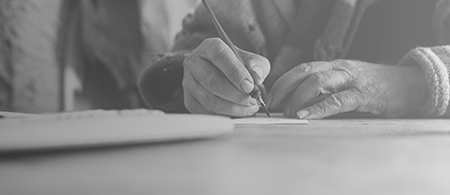 We Want to Hear From You!
Share Your Story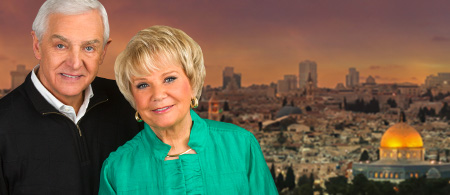 Join Us For an Inspirational Vacation
Travel With Turning Point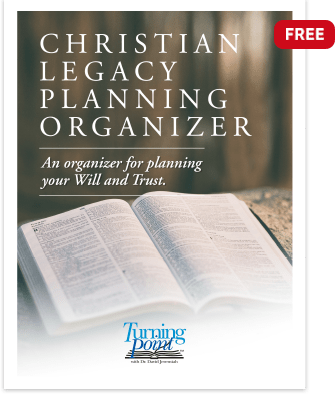 DOWNLOAD YOUR FREE LEGACY-PLANNING GUIDE
Christian Legacy Planning Organizer
We all enjoy planning for our family vacations and getaways with loved ones. However, how many of us spend more time planning a vacation than we do planning for the future? Probably most of us. Why? Because planning for a vacation is fun, exciting, and brimming with anticipation. Planning for our future seems to be a bit different since it can involve fear, confusion, and uncertainty. But, if you plan for your future legacy in an organized way, it can be just as simple as planning for that wonderful vacation that is so exciting. You just need to get started, and we want to help.
Begin the process of making plans that last by downloading your copy of Turning Point's free Christian Legacy Planning Organizer.
New From Airship Genesis
Invasion of Rocket Cove
Rocket Cove is under attack! When a mysterious ship appears over the Genesis Exploration Squad's hometown, the people of Rocket Cove are thrown into a panic. What is this mysterious ship? Who is piloting it? And what do they want?
When this invading ship starts moving around the town, affecting its residents in strange—and hilarious—ways, the questions only multiply. And just when the squad thinks the worst is over, a giant robot appears! It is up to the Genesis Exploration Squad to solve the mystery and move forward without fear against The Invasion of Rocket Cove.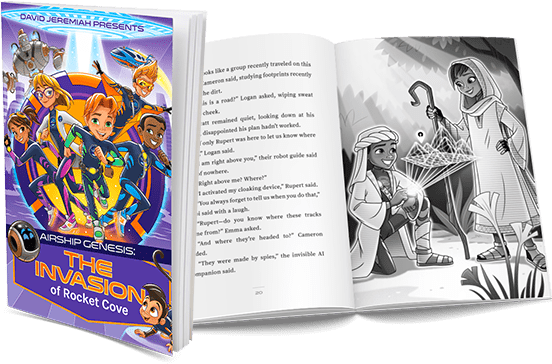 From Dr. David Jeremiah
Tour the Land of the Bible with Dr. David Jeremiah
After leading several trips to the land of the Bible, Israel has become one of my favorite places on earth. Donna and I are excited to return for another Turning Point Israel tour, March 19-29, 2019.
We'll visit historical places like:
Gethsemane
The Sea of Galilee
The Mount of Beatitudes
And more
I'll guide you through these sacred sites and others, teaching God's Word as we retrace our Savior's steps. Imagine seeing the same landscape Jesus saw, being baptized in the Jordan River, or singing at the Garden Tomb in Jerusalem.
These life experiences will change you forever.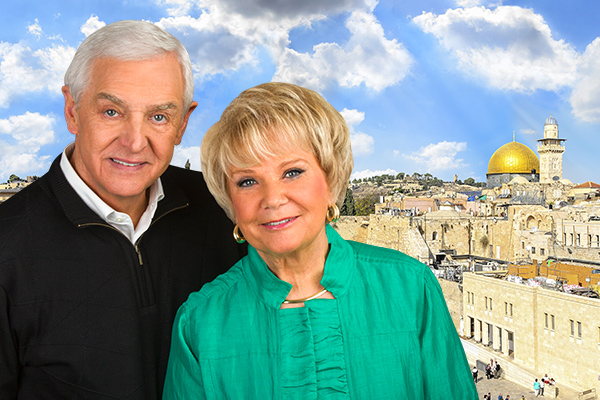 THANK YOU FOR YOUR SUPPORT OF OUR GOD-GIVEN MISSION:
Delivering the unchanging Word of God to an ever-changing world.