Television Series:
Now Airing
Here are the current teaching series now airing on Turning Point Television. Enter your email address in the box below to receive updates about upcoming broadcasts.
Series Updates »
Please enter a valid email address
You've been successfully signed up!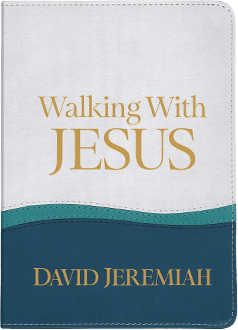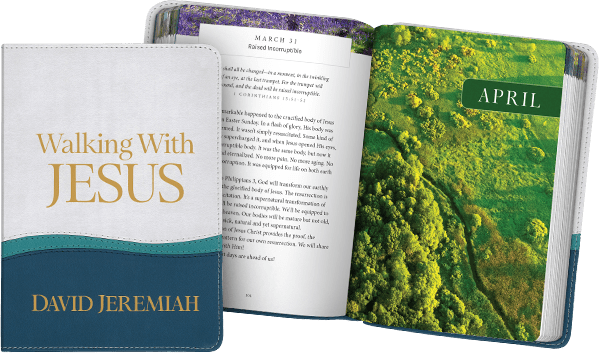 Be Encouraged in 2024
Walking With Jesus
This beautiful leather devotional will be a powerful reminder of who God is and why you need Him! You'll be heartened to view each day's trials as opportunities for God to pour His goodness, wisdom, and love into your life.
By this time next year, you'll be walking closer to Jesus than ever before!
Request Now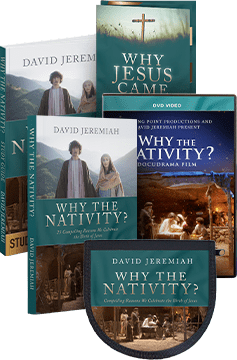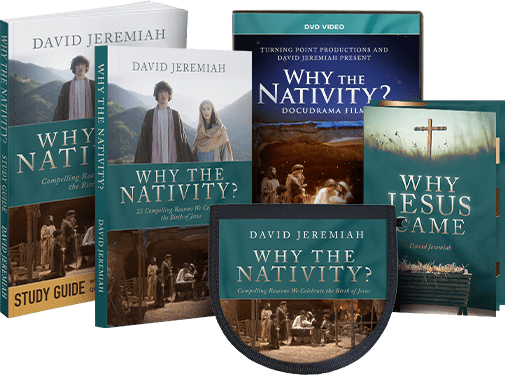 Learn the Meaning of Christmas
It's More Than a Film...
Many people in the world today do not recognize the importance of Christmas and what it means for them. They might enjoy celebrating the holiday, but they've never fully understood the true reason we celebrate—that God sent His only begotten Son to be our Savior.
Explore the full collection of Dr. Jeremiah's Why the Nativity? resources and discover all the intricacies, beauty, and purpose of the birth of our Savior, Jesus Christ.
Request Now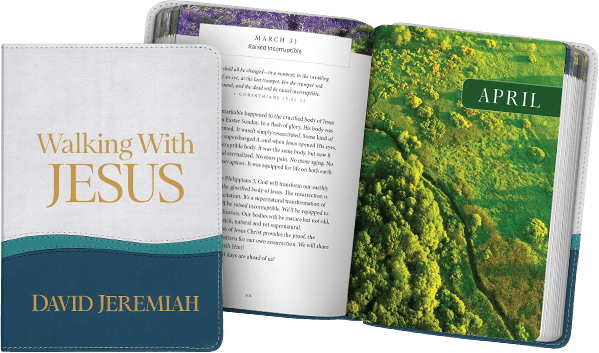 New 2024 Leather Devotional
Walking With Jesus
Our Savior wants us to grow in our relationship with Him, and there's no better way to do that than daily time in His Word. Our 2024 devotional, Walking With Jesus, will help you focus your heart on Him and all that He has done for you. Take each step with Jesus this coming year and grow in your knowledge and understanding of Him and His immense love and care for you!
When you know Jesus as your Savior and Lord, He also becomes your Companion and Friend, and He walks with you and talks with you and tells you that you're His own.
In Walking With Jesus, you'll find 366 special devotionals with comments and insights to supplement your own study of Scripture. Make forward progress each day, walking with a burning heart alongside the best Friend in the world!
Why the Nativity—December 2023
The Worldwide Outreach Continues!
This year, Dr. Jeremiah and Turning Point will reach out further into the world to tell the Christmas story through Why the Nativity?. We are airing this Christmas presentation on all our television outlets, streaming it online, and finding added television avails, both domestically and abroad, so the world can be introduced to the Gospel through the story of Jesus' birth. The ENGLISH and SPANISH versions of the film were released in 2022, and we are thrilled to announce that Why the Nativity? has been translated into four additional languages to be broadcast and streamed this Christmas!
MANDARIN—With 1.1 billion native speakers worldwide, after English, this is the most spoken language in the world!
HINDI—Hindi is spoken in 8 countries in the world and is one of the official languages of India! There are 609.4 million native speakers of Hindi.
ARABIC—There are an estimated 274 million Arabic speakers in the world, making it the fifth most spoken language.
TELUGU—Telugu is spoken by about 96 million people and has primary official status in more than one Indian state!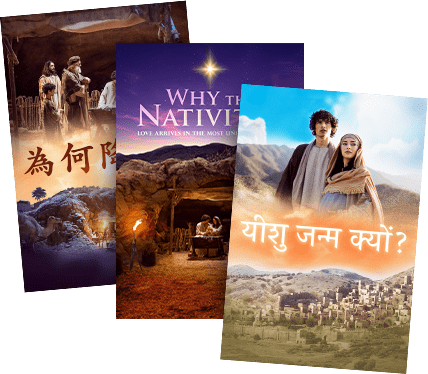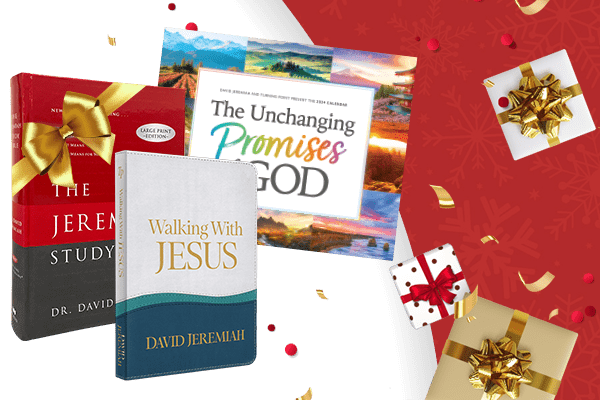 Introducing Dr. David Jeremiah's
2023 Christmas Gift Guide
Let our 2023 Christmas Gift Guide help you to simplify your holiday shopping. Filled with options to bless everyone on your list, you'll find books, teaching resources, Bibles, and so much more sure to bless everyone on your list all year long! Start new family traditions with Dr. Jeremiah's many books and devotionals to choose from. Unlock the true spirit of the holiday season by giving the gift of inspiration, faith, and personal growth.
Imagine sharing a gift with your friend or family member that helps them foster a deeper understanding of their faith while strengthening their walk with the Lord! Choose from numerous thoughtful gifts that will inspire and nourish the faith of your loved ones during the Christmas season and beyond with this incredible, easy-to-use gift guide!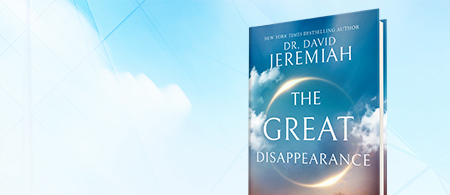 Discover 31 Ways To Be Rapture Ready!
Request The Great Disappearance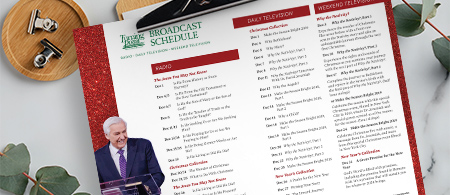 Don't Miss This Month's Teaching Series!
Free Printable Broadcast Schedule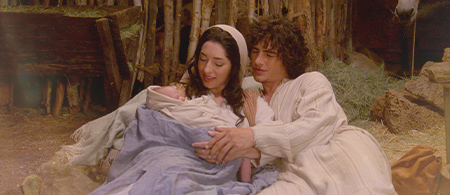 Narrated by Dr. David Jeremiah
The Christmas Story: Luke 2:1-20
Music, Merriment, Meaning, and More!
Home for Christmas Channel
This year David Jeremiah and Turning Point Ministries want to cut through the confusion and deliver the spirit and message of Christmas to people everywhere, so we are bringing back by popular demand the Home for Christmas channel.
Immerse yourself in a season filled with melodious music, joyful carols, captivating pageants, heartwarming laughter, meaningful Scripture, and enlightening Bible teachings. These complimentary resources can be enjoyed conveniently on your phone, in your car, at home, or wherever you want to add a touch of Christmas. Regardless of who you are or where you choose to celebrate, we hope that the Home for Christmas Channel will bring brightness to your spirits and usher in the joy of the season—the birth of our Savior, Jesus Christ!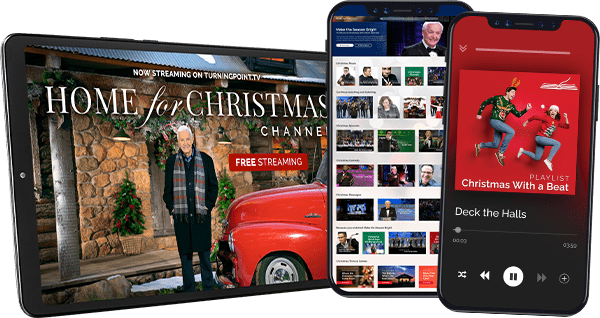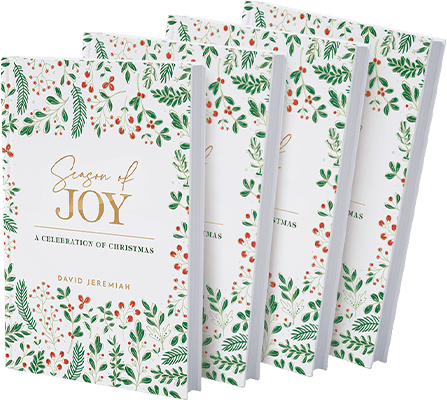 A Celebration of Christmas
Season of Joy by David Jeremiah
New from Dr. David Jeremiah, Season of Joy is a beautifully crafted book designed to help you unearth four transformative paths to a deeper spiritual bond with Jesus.
While Christmas is a treasured time to commemorate the birth of our Savior amidst loved ones, the bustling season often eclipses our joy. Yet, it doesn't have to be that way! This beautiful book, poised to be a holiday staple, offers you uplifting devotionals inspired by Christmas carols, biblical accounts of Jesus' birth, and more. These bits of wisdom will enliven your spirit as you navigate the festive season.
This Christmas, remember the reason for the season and keep Christ at the center of your celebrations. Request your copy of Season of Joy and get ready to be set aglow with the true Light of Christmas this year.
The Home For Christmas Channel
The Pomp and Pageantry of Christmas
Back by popular demand, we bring the pomp and pageantry of Christmas to you. Enjoy the sights and sounds of the season with Turning Point's Broadway spectaculars, Make the Season Bright, and Make the Season Bright, Too! taped in December on Broadway in New York City.
Allow His peace and hope to fill your heart and home as you celebrate this Christmas with Dr. Jeremiah as he hosts a spectacular evening filled with music and joy. You and your loved ones are sure to enjoy this fun and beautiful Christmas extravaganza!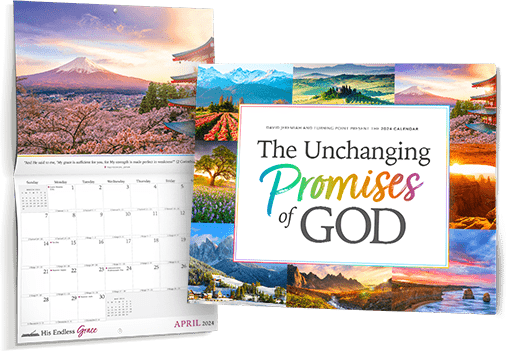 The Unchanging Promises of God
Turning Point Exclusive 2024 Calendar
Turning Point's 2024 calendar—The Unchanging Promises of God—illustrates the unfading, unfailing, relevant, and true assurance of God's enduring Word amidst a rapidly changing culture and increasing political and economic instability.
You'll be encouraged by the rock-solid promises of God's faithfulness, wisdom, blessings, grace, mercy and—best of all—love throughout the year. You'll find peace, renewal, and strength every day as you journey through the certain hope found in Scripture.
Our annual calendar is one of the most popular resources we produce and supplies are limited. Don't wait to order this stunning 14-month calendar today and be reminded daily that God's promises are unchanging in this season and every season to come!
This Month on Television
Why the Nativity?
Discover the true meaning of Christmas by taking a front-row seat to every moment of the Nativity story. This visually stunning, biblically accurate, and Christ-centered Christmas docudrama will draw you and your family deep into the layers of both the Old and New Testament as it unveils the profound meaning and importance of each character involved.
Available to watch now on: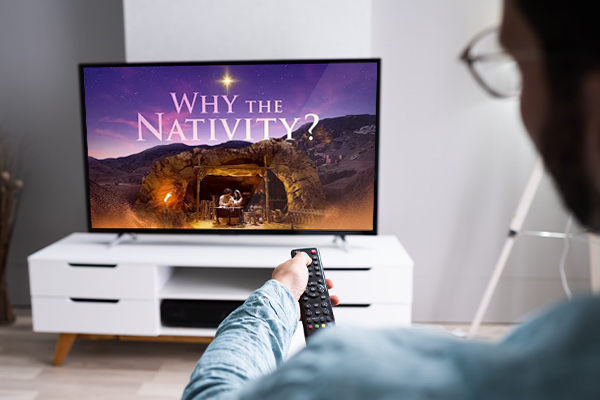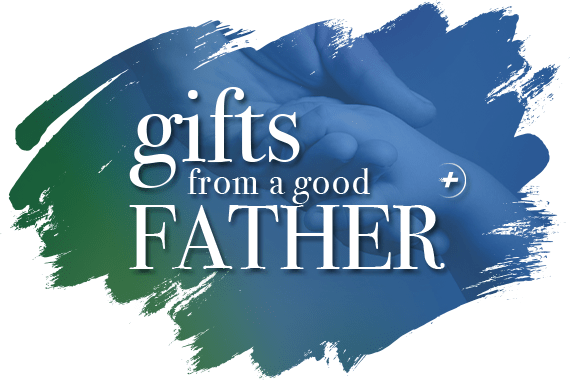 OVER 40 YEARS OF BIBLE STRONG TEACHING AND SO MUCH MORE!
Gifts From a Good Father
Celebrate over four decades of Bible Strong teaching with TurningPoint+, your ultimate streaming destination for engaging and enlightening content. Immerse yourself in a vast library of audio and video resources featuring more than 1,000 teachings—all readily available on your favorite devices.
Explore popular playlists such as "Gifts From a Good Father." Discover the grace that leads to having a thankful heart, that is able to rejoice in all things. The longer one walks with the God of grace, the more readily one is able to give thanks in every circumstance!
With a captivating array of teachings and soul-stirring messages, TurningPoint+ offers unparalleled access to timeless biblical wisdom. Unleash the power of Bible Strong teaching and venture into all the compelling series available when you start streaming TurningPoint+ today!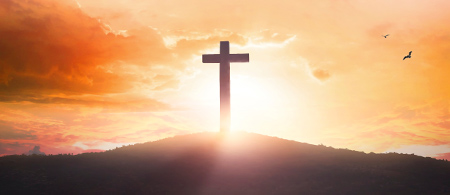 Do You Know God...Really?
How to Become a Christian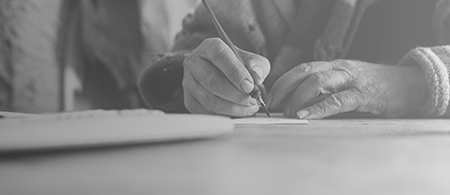 We Want to Hear From You!
Share Your Story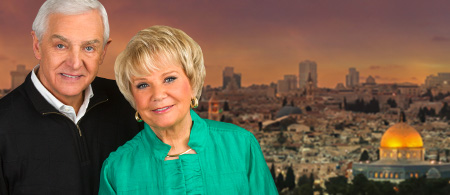 Join Us For an Inspirational Vacation
Travel With Turning Point
Online Vacation Bible School Starts July 3
Airship Genesis Summer Blast!
Join Airship Genesis for a free five-week VBS program this summer. Each week you will find an exciting audio adventure featuring the Genesis Exploration Squad, a Bible lesson, a memory verse, a challenge, fun activities, and more. Your kids can learn about the importance of the Bible in their lives through five separate lessons:
The Bible gives us direction for all of life's adventures!
The Bible was written just for us by God!
The Bible is powerful for any situation.
The Bible should be shared with others.
God rewards us for living by the Bible.
Don't miss Summer Blast! The adventure begins on July 3.