Television Series:
Now Airing
Here are the current teaching series now airing on Turning Point Television. Enter your email address in the box below to receive updates about upcoming broadcasts.
Series Updates »
Please enter a valid email address
You've been successfully signed up!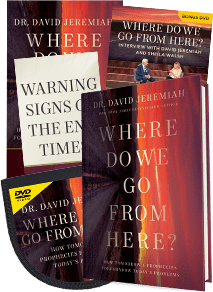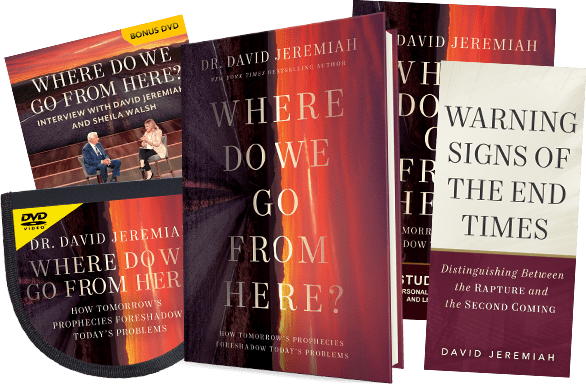 WHERE DO WE GO FROM HERE?
Your Complete Study Set
Exclusively available from Turning Point, this robust Bible prophecy study set will guide you toward the hope we can find amid the prophetic events that are unfolding all around us.
Learn More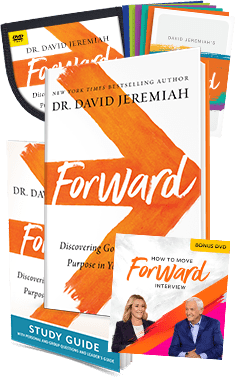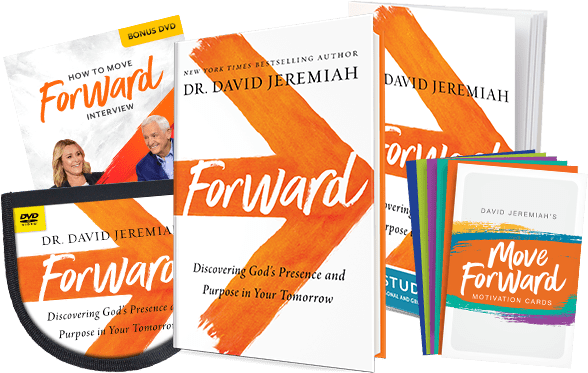 DISCOVER GOD'S PURPOSE FOR YOUR LIFE
Find God in Your Tomorrow
God wants to expand your dream, give you divine direction, plant a life purpose within you, equip you with tools to overcome fear, grant you great personal accomplishment, and find a mission that will outlive your life.
Learn More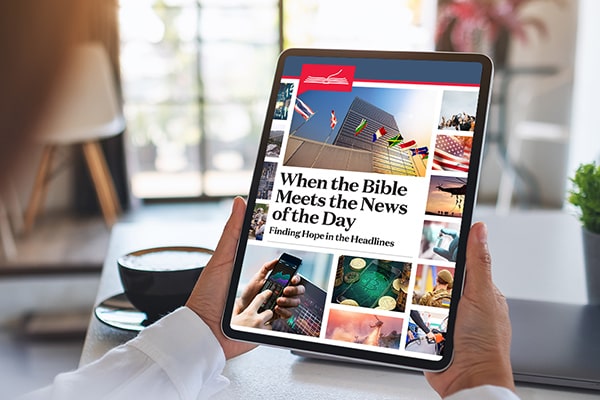 Finding Hope in God's Plan for the Future
When the Bible Meets the News of the Day
Maybe you have experienced a sense of despair while scrolling through the news lately, bombarded by headlines of tragedy, war, and global instability. It is all too easy to feel discouraged by the state of our world. But here's the good news: as Christians, we have access to a prophetic outline of the future, given to us by God himself.
While it's important to stay aware of current events, let's not allow them to shape our attitudes or perspectives. Instead, let's look to the Word of God for guidance on how to view the world around us. For over 40 years, Dr. David Jeremiah has provided us with invaluable teachings on prophecy, offering profound hope in the midst of chaos.
By understanding God's plan and purpose for our future, we become unshakable, steadfast, and fearless. This newfound confidence allows us to be ambassadors for Christ, spreading the good news of His salvation to the world. So if you're feeling disheartened by the headlines, remember that there is a greater, more hopeful story at play. Join us in discovering what it means to live in light of God's plan for our future—it's news worth sharing!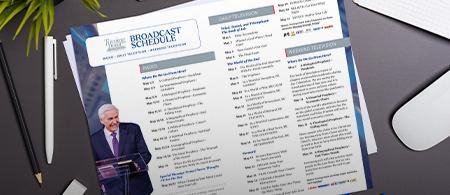 Don't Miss This Month's Teaching Series!
Free Printable Broadcast Schedule
Wars and Rumors of Wars
Russia's Role in End Times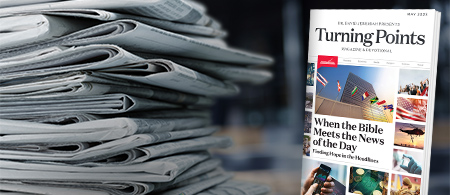 Download Your Copy Today
Free Turning Point's Magazine
The Convenience You Need, the Content You Want
Access the Turning Point App On Your TV With Roku
Every message from Dr. Jeremiah is aired across the world on Turning Point Television, on our ministry website, and in our official mobile phone app. But did you know…Turning Point Television is also available absolutely free on Roku? No subscription of any kind required! If you have internet access and a Roku Device (or a smart TV), you can watch Dr. Jeremiah's broadcasts absolutely free.
Think of it this way…Our Roku App does the DVRing for you! No need to make sure Turning Point is recording because our Roku App makes it available instantly, for free.
Watch Turning Point from your TV on YOUR time, when YOU want to watch it!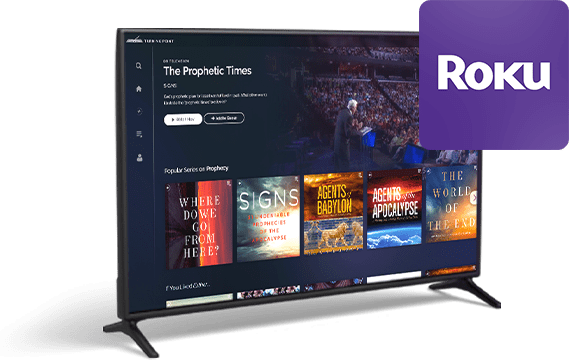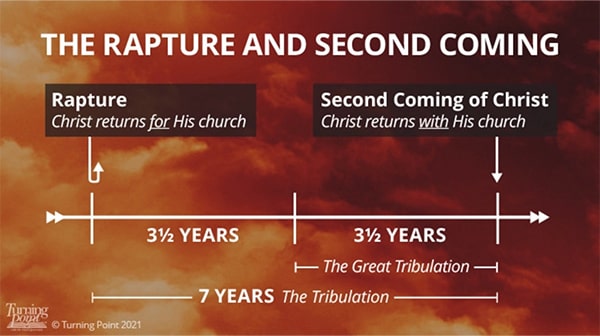 UNDERSTAND WHAT IS IN STORE FOR THIS WORLD
The Revelation Prophecy Timeline
Anyone who pays careful attention to Scripture has a bittersweet relationship with current affairs. It seems that each day brings news of turmoil, wars, diseases, economic collapse, and heartache. Even so, these disasters indicate that Jesus' Second Coming is drawing near.
With the book of Revelation as a guide, it is possible to construct a timeline of the Last Days and view each day through the lens of prophecy. Explore all the following topics on the prophecy timeline in a simple easy-to-understand format:
The Rapture: Jesus Takes His Church to Be With Him
The Tribulation: Unrestrained Evil
The Second Coming: To Judge the World
The Millennium: To Rule the World
A New Heaven and a New Earth
PLUS: What Do We Do Until Then?
DOWNLOAD YOUR FREE LEGACY-PLANNING GUIDE
Christian Legacy Planning Organizer
We all enjoy planning for our family vacations and getaways with loved ones. However, how many of us spend more time planning a vacation than we do planning for the future? Probably most of us. Why? Because planning for a vacation is fun, exciting, and brimming with anticipation. Planning for our future seems to be a bit different since it can involve fear, confusion, and uncertainty. But, if you plan for your future legacy in an organized way, it can be just as simple as planning for that wonderful vacation that is so exciting. You just need to get started, and we want to help.
Begin the process of making plans that last by downloading your copy of Turning Point's free Christian Legacy Planning Organizer.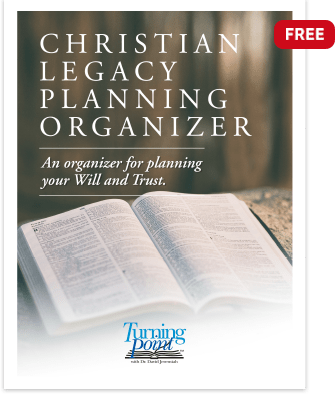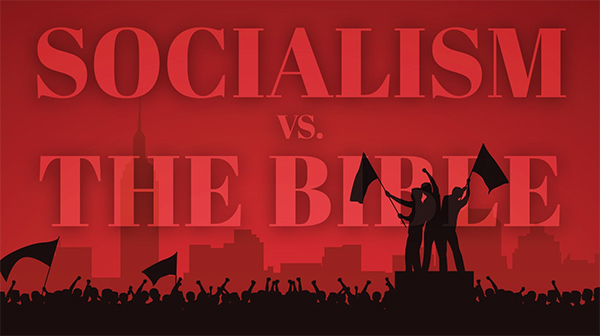 Socialism Vs. The Bible
What Does the Bible Say About Socialism?
Few passages of Scripture stir as much political controversy as Acts 2:44-45, which is addressed to the Early Church. It says, "Now all who believed were together, and had all things in common, and sold their possessions and goods, and divided them among all, as anyone had need." Someone will likely tell you the Bible teaches socialism here and that the Early Church was communist. I will tell you this is a story of personal sharing, not public socialism.
The Early Church's generosity would have baffled Karl Marx. No one compelled the believers to help the poor and share what they had. No one redistributed possessions on their behalf. In Acts 2, we find a story of generosity and kindness, not governmental control.
Discover what Jesus Told us to Expect
The World of the End
We may not be at the end of the world, but we are at the World of the End—a time when Bible prophecy is intersecting with our culture, technology, unhinged morality, and worldwide strife as never before. And at this point in our culture, we must boldly proclaim the Word. This is why Dr. Jeremiah felt clearly led by the Lord to develop the book, The World of the End!
As you journey through The World of the End, you will learn how to:
Make the voice of Jesus a priority when considering the unusual events of the world around you.
See cataclysmic disasters, wars, and cultural divisiveness as signs of Jesus' soon return.
Trust that God is in control and that His plan is still working to completion.
Discover how to not just survive the circumstances of our world, but how to use them to make you a stronger believer and ambassador for Christ!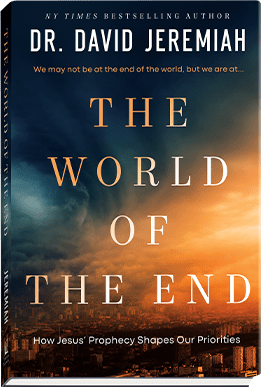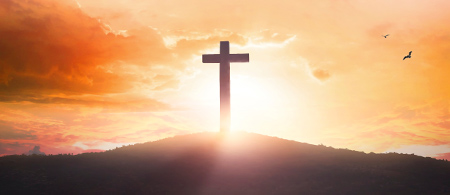 Do You Know God...Really?
How to Become a Christian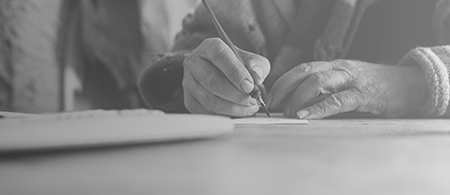 We Want to Hear From You!
Share Your Story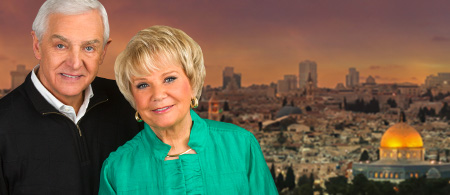 Join Us For an Inspirational Vacation
Travel With Turning Point
Online Vacation Bible School Starts July 3
Airship Genesis Summer Blast!
Join Airship Genesis for a free five-week VBS program this summer. Each week you will find an exciting audio adventure featuring the Genesis Exploration Squad, a Bible lesson, a memory verse, a challenge, fun activities, and more. Your kids can learn about the importance of the Bible in their lives through five separate lessons:
The Bible gives us direction for all of life's adventures!
The Bible was written just for us by God!
The Bible is powerful for any situation.
The Bible should be shared with others.
God rewards us for living by the Bible.
Don't miss Summer Blast! The adventure begins on July 3.