Biography of Dr. David Jeremiah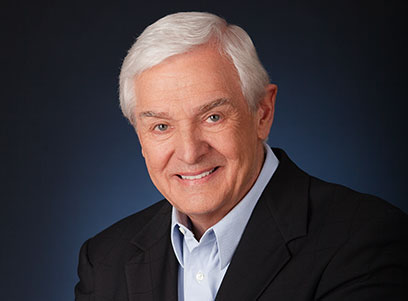 Founder and host of Turning Point for God and senior pastor of Shadow Mountain Community Church, David Paul Jeremiah, was born February 13, 1941, in Toledo, Ohio. He is one of four children born to James and Ruby Jeremiah. During his childhood, his family moved to Dayton, Ohio, where his father, James T. Jeremiah, served as Pastor of Emmanuel Baptist Church. In 1953, the Jeremiah family moved to Cedarville, Ohio, when his father became the President of Cedarville College—which is now Cedarville University.

Growing up in a pastor's home, David was immersed in ministry from an early age. During his senior year at Cedarville College, he felt God's calling to enter full-time ministry. He received his Bachelor of Arts degree in 1963, and that same year he married his college sweetheart, Donna Thompson. After graduation, they moved to Dallas, Texas, where David attended Dallas Theological Seminary. He received his Master's degree in Theology in 1967. Completing additional graduate work at Grace Seminary, he was granted the Doctor of Divinity degree from Cedarville College in 1981.
In 1969, David and Donna began a church plant in Fort Wayne, Indiana, with seven families in attendance. He served as pastor at Blackhawk Baptist Church for twelve years. During that time the church grew to 1,300 members, Blackhawk Christian School was founded, and The Bible Hour television program was launched.

In 1981, the Jeremiah family, which now included four children, followed God's call and moved to California when Dr. Jeremiah became the senior pastor of Scott Memorial Baptist Church, which is now Shadow Mountain Community Church. Today Shadow Mountain Community Church is one of the largest churches in San Diego county with eight satellite locations including Hispanic and Arabic congregations. The main campus of the church, located in El Cajon, California, is also the home to Southern California Seminary and Christian Unified Schools, a multiple site kindergarten through twelfth-grade Christian school district.
Once the family settled into life in California, David felt God's calling to continue the broadcast ministry he began in Fort Wayne. In 1982, Turning Point for God became a reality with a local television program in San Diego. Not long after that, Turning Point Radio was initiated as well. What began as a local television program has become an international leader in radio and television broadcast ministry. Today, Turning Point Radio and Television programs are seen and heard across the nation seven days a week. The ministry's international outreach continues to grow in Canada, the UK, across the Middle East, Russia, and Australia and New Zealand, with foreign language translations in ten languages reaching people in India, the Philippines, China, and in Spanish-speaking countries around the globe.
In addition to his passion for preaching and teaching the Word of God, David Jeremiah is a prolific author. He has been the recipient of numerous awards for his books including bestseller lists in The New York Times, Wall Street Journal, Publisher's Weekly, and USA Today, the ECPA Medallion of Excellence Award, as well as two Gold Medallion Awards.

David is a sought-after speaker across the country—speaking frequently at universities, conventions, and conferences, as well as chapels for professional football and basketball teams. He also hosts Turning Point live events in cities around the country each year. His passion to reach the lost and help Christians grow spiritually has never wavered; he has faithfully studied and taught the Word of God for more than fifty years. Believing our dreams should always be greater than our memories, he continually trusts God to accomplish great things through Turning Point's ministry around the globe—including reaching new audiences through the Internet, on Facebook, Twitter, and satellite transmissions to countries previously unable to receive the Gospel.
David and Donna have four grown children: Janice Dodge, David Michael Jeremiah, Jennifer Sanchez, and Daniel Jeremiah. They are the proud grandparents of twelve grandchildren.